Day 1 :
Keynote Forum
Technical University, Bulgaria
Time : 09:30-10:10

Biography:
Veselin Borisov Demirev has completed his MS degree in radio-engineering, Higher Institute of Electrical and Mechanical Engineering (now Technical University-Sofia, TU-S with a specialization in the fields of microwaves, antennas and radar in 1971 and PhD degree in TU-S with thesis on "Radar signal processing antennas" in 1981. He has graduated a course in "Land mobile communications", USTTI and Motorola, USA in 1994 and many others. He was a Research Engineer at Institute for Radioelectronics and Optics, Sofia from 1973 to 1974; Researcher and Senior Researcher at Microwave Devices and Systems (MDS) research laboratory, TU-S from 1976 to 1993; Head of EMC and Radio-communication department at Committee of Post and Communications, Sofia from 1993 to 1998; Professor in Faculty of Communications, TU-S since 1998 and Research Project Manager in Sky Gate-BG Ltd. on second contract from 2001 to 2003. He has about 100 scientific reports and papers, 15 patents and is author and coauthor of 3 books in Bulgarian. He has been engaged for more than 47 years research and education activity in the field of Microwave devices and systems; Broadband mobile satellite and terrestrial communications; Radar and navigation systems; Signal processing antennas and Spread spectrum systems
Abstract:
Spatial correlated microwave technologies: The future of the broadband mobile communications is a concise and yet comprehensive report on the subject of proposed by the author two new beam-forming communication principles named Spatial Correlated Processing (SCP) and Random Phase Spread Coding (RPSC). The report is logically divided into two parts. The first is SCP and RPSC technology fundamentals and the second contains their applications. In introduction a short background for the importance, advantages and disadvantages of the Radio communications is given, as well as the authors proposals for solving the existing problems; In SCP technology the author discusses the fundamentals of the microwave high gain antenna systems, tracking communication satellites in angular coordinates (in receive mode). The basic principles of the proposed SCP beam-forming technology are considered too; In RPSC technology the author introduces an essential basic knowledge of the SCP technology in transmit mode (RPSC); The advantages over the conventional broadband spread spectrum and beam-forming principles for transmission of information, as well as description of the proposed RPSC Multiple Access techniques, are discussed too; SCP-RPSC technology in the next generation satellite broadcasting systems comprises all the particulars about the application of SCP technology in satellite broadcasting using Geostationary orbits (GSO) and Quasy-GEO orbits. These applications are particular useful for mobile TV reception and the developing countries; SCP-RPSC-the key technology in the next generation steerable lines for satellite communications describes the applications of SCP-RPSC approach in the steerable satellite feeder lines of the onboard public access broadband communications, in the steerable inter satellite and inter orbit feeder lines, as well as in the backbone of the terrestrial base stations for mobile communications and IP LAN; SCP-RPSC technology in the next generation Mobile Satellite Service (MSS) presents the application of SCP-RPSC principles, solving the problems of the Vehicle-Mounted Earth Stations (VMES), operating currently on conventional Ku and Ka frequency bands; SCP-RPSC technology in 5-G access strategies comments the possibilities and advantages of SCP-RPSC terrestrial and High Altitude Platform Systems (HAPS), used both in fixed and mobile communication environment. SCP-RPSC in 5-G Coherent Transponding Systems (CTS) gives a presentation of the 5-th generation short range mobile networks, applied for improved support of machine to machine communication (Internet of Things - IoT). Here the "magic" properties of the SCP-RPSC technology, applied in the future sophisticated CTS,s, are discussed.
Keynote Forum
University of Electronic Science and Technology of China, China
Time : 10:10-10:50

Biography:
Guolin Sun has completed his B.S., M.S. and Ph.D. degrees all in Communication and Information Systems from the University of Electronic Science and Technology of China (UESTC), Chengdu, China, in 2000, 2003 and 2005 respectively. Since graduated with Ph.D. in 2005, he has got eight years industrial work experience on wireless research and development for 4G/5G, Wi-Fi, Internet of Things, Cognitive radio, Localization and navigation. Before he joined the School of Computer Science and Engineering, UESTC as an Associate Professor in Aug. 2012, he worked in Huawei Technologies Sweden. He has filed over 40 patents, and published over 40 scientific conference and journal papers, acts as TPC member of conferences. Currently, he serves as a vice-chair of the 5G oriented cognitive radio special interest group of the IEEE Technical Committee on Cognitive Networks (TCCN) of the IEEE Communication Society. His general research interests include artificial intelligence, radio resource management, software defined networks, network function virtualization.
Abstract:
The emerging future generation 5G technology is expected to support service-oriented virtualized networks where different network applications provide unique services. 5G networks have the potential to allow completely different slices to co-exist in a substrate network and satisfy the differentiated requirements of various users. In networks with heterogeneous traffics, operators are required to provide services in isolation since each operator has its own defined performance requirements. However, achieving an efficient resource provisioning mechanism for such traffics is very challenging. We proposes a coarse resource provisioning scheme and a dynamic resource slicing refinement scheme based on dueling deep reinforcement learning for virtualized radio access network. Then, a shape-based resource allocation algorithm is proposed to customize the diverse requirements of users to improve user satisfaction and resource utilization. The results reveal that the proposed algorithm balances satisfaction and resource utilization with 80% of the available resources. The algorithm also provides performance isolation such that, a sudden change in user population in one slice does not affect the others.
Keynote Forum
Hsiao Chung-Cheng Healthcare Group, Taiwan
Time : 11:10-11:50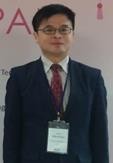 Biography:
Shih-Chi Chan has completed his PhD at National Tsing Hua University and research work from IRCAD Taiwan. He got the Outstanding Chemical Engineering Article of the Year 2010, Oct. 2010. Since March 2018, he has been a Researcher in the Hsiao Chung-Cheng Healthcare Group, Taiwan, Republic of China. He presently works at the Hsiao Chung-Cheng Healthcare Group, where he focuses on the development of the microsystems and Bio-ultrasound.
Abstract:
Through decades of developing micropumps in the MEMS field, a new micropump design should not only focus on performance and function, but should also target the ability to be integrated into BioMEMS system chips for the achievement of versatile applications. For this reason, a new micropump design, possessing the potential to integrate with various developed microdevices, has considerable value. This study proposes a new electrolysis micropump, featuring low power consumption and heat pipe-like back and forth actuation. It is believed that such design would have large potential to integrate with varied microfluidic devices. It is also believed that the combination of our micropump and an embedded microfluidic array probe matches the future trend of BioMEMS development, and provides a high quality tool for further study of medical tests involving biological samples.
Wireless Communication | Telecommunication | Internet of Things (IoT) | Mobile and Wireless Network | Ad Hoc and Sensors Networks | 5G and Beyond | Technology for Wireless
Location: Rome, Italy